Menlo Park, New Jersey
Now and Then
A look at the location of Thomas Edison's laboratory
This series of pages looks at Menlo Park in the year 2000. Compare the area today with the old images from Edison's time. Maps and photos illustrate the changes that have taken place in the time since Edison invented a whole new world.


---


Thomas Edison selected a small hamlet to be the new home for his family and for his world class laboratory. Menlo Park was a section of cleared land and a few structures located along the main railroad tracks a dozen miles south of Newark. A failed real estate development, the location provided some inexpensive space and a remote spot to concentrate on inventing. Edison purchased 2 parcels. The real estate sales office, at the corner of Christie Street and the Middlesex Essex Turnpike, became the family home. A few blocks up the hill, on Christie Street between Middlesex and Woodbridge Avenues, he built his laboratory complex.

Here is a map of the area from the 1870's: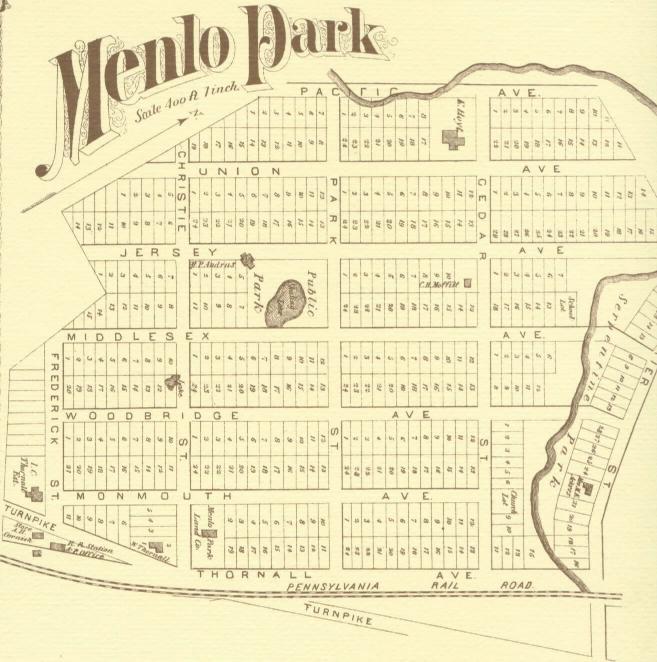 This map shows the approximate locations of various structures in Edison's time: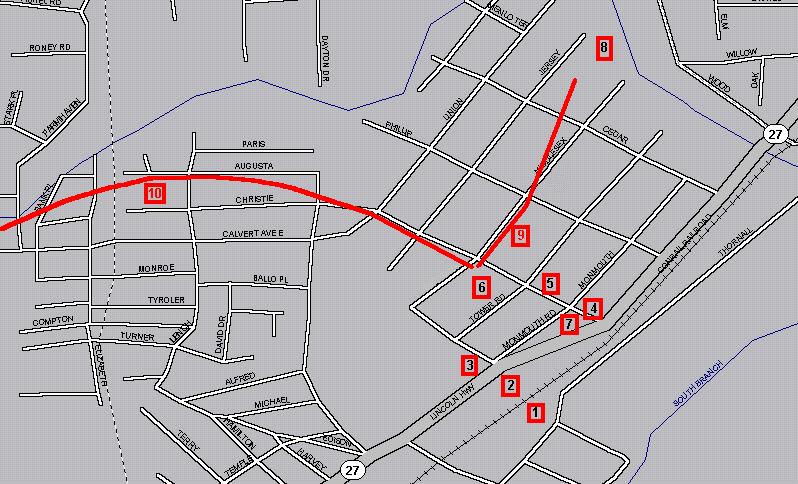 #1 is the approximate location of the railroad station.
#2 is where the steps led up from the tracks to the boardwalk; the Lighthouse Tavern is also in this area.
#3 is the home of Francis Upton (corner of Monmouth and Frederick).
#4 is the home of Thomas Edison (site of a commemorative tablet).
#5 is the location of Sarah Jordan's boarding house, and right next door (at the corner of Christie and Woodbridge/Tower) is the home of Mr. Dean.
#6 is the location of the laboratory grounds: library office/ laboratory/ machine shop/ carbon shed.
#7 is the home of Mr. Batchelor and Mr. Kruesi.
#8 is the approximate location of the Mine Gully.
#9 is the approximate route of the first experimental electric railroad.
#10 is the approximate route of the second experimental electric railroad, which continued on past Dark Lane (Grove Avenue) and ended near Pumptown (on the grounds of the Metuchen Country Club). Total distance was in excess of 8,000 feet.
The Lamp Factory was located on the other side of the tracks, somewhere near the bottom of Cedar.
Next page

Previous Page

Thomas Edison index

J Halpin CPA page
J Halpin 8/19/01.