Metuchen Edison History Features
Recollections of
Boyhood Days
In Old Metuchen
By
David Trumbull Marshall
Published by The Case Publishing Co., Flushing NY 1930
(Second Edition)- (c) 1930
Frank Smith.
Frank Smith has been an Institution in Metuchen for fifty years.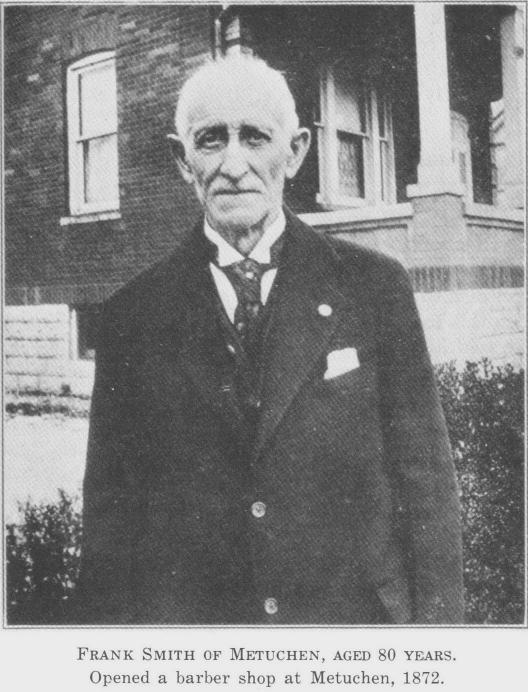 When Frank first came to Metuchen in 1872 he occupied a small building next to Robin's Hall.
There he shaved, clipped and shampooed the elite of Metuchen for a good many years.
About 1880 he moved his barber shop into the lower floor of Robin's Hall and until 1920 there kept up his good work of making the men and boys of Metuchen look pretty.
The first time I ever was in Frank's barber shop I went with Frank Pattison, who was to have a haircut. I particularly remember that incident, for Frank Pattison sat astride the foot-rest instead of in the barber's chair.
A haircut by a real barber was something which the Marshall boys, the younger ones at any rate, had up to that time never experienced. My father had always done the haircutting in our family.
A haircut which aims to leave every hair the same length when finished is not difficult. This is called a "shingle" -- just why shingle I am not sure. I don't find the word in the dictionary.
When I was a boy I imagined that such a haircut was called "shingling" because my father's haircuts left one's head notched all over like the shingles on a roof.
Nowadays when one may buy a hair-clipper for a dollar it is easy to cut hair without notching. I cut my dog's hair as smooth as a Persian rug.
Frank Smith was one of the firemen I used so much to envy and admire along about 1875.
I went into Frank Smith's barber shop one day in 1929. Frank was cutting the hair of a boy of seven or eight years of age, just as he was cutting the hair of Frank Pattison fifty years before. I said to him, "Frank, haven't you gotten that boy's hair cut yet?"
Frank looked at me for a long time but he couldn't remember me until I told him who I was.
I begin to think I am getting old myself for I frequently forget people entirely in a week.
FRANK SMITH
By Lloyd Grimstead
When James Grimstead had moved his ice house from the mill pond at Bonhamtown to Redfield's Pond in Metuchen, and the ice was ready to cut, Mr. Grimstead was worried about where he was going to get men to put in the ice, and he stopped in at Frank Smith's to see if he could find any one. Frank says he told him not to worry, he'd fix him up all right. The next day when they were putting in the ice with two or three men, along came Frank Smith with a bunch of men, a pail of hot coffee, sandwiches and cake, and made a regular picnic of the affair. The writer was a small boy of six or seven at the time and wasn't allowed to have any of the coffee, but enjoyed the sandwiches and cake. After the party was over the men all pitched in and made short work of getting in the ice. One grabbed an ice saw and cut the ice into blocks of several cakes. Another grabbed a pike-pole and floated the cakes down to the run where another man with a separating bar would break the floats up into individual cakes. Another man with a pike-pole would run the cakes of ice up on the gig where it was hoisted into the ice house and packed away by other men. This is just one instance of the many kind deeds that can be credited to Frank Smith. In all probability he closed up his own shop in order to help his neighbor.
It has been his practice to take his barber kit on Sunday afternoons and go and shave some one who was sick in bed and unable to do for himself. For this he would never take any recompense. The writer's father was one of the many who received one of these friendly calls. He also supplied Frank with many of the squabs that were sent to sick friends. Frank Smith, probably more than any other man in Metuchen, has gone out of his way to do some little act of kindness for his fellow-man.
FRANK SMITH -- FIREMAN
Whenever there was a fire you would always find Frank Smith sitting up behind the wheel steering the old Hook and Ladder truck.
He tells of a time when there was a house on fire somewhere back of the Catholic Church. Some one said that there was a little girl asleep upstairs in one of the rooms. He rushed upstairs and searched through the rooms and found a youngster lying on the bed. He picked it up and wrapped it in a blanket, went out and saw the hall was full of smoke and flames. He made up his mind that it was no use to try to get down that way, so he went to the window and some of the boys saw him and put up a ladder. So he climbed out the window and slid down the ladder with the child.
Boyhood Days in Old Metuchen Title page
Metuchen Edison History Features index page
Metuchen Edison Historical Society page
Lasted updated 5/20/99 by Jim Halpin.