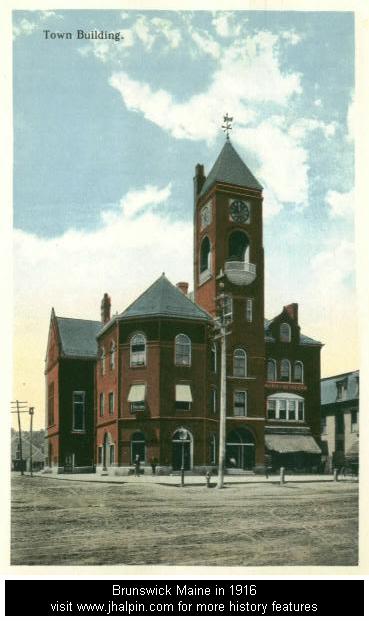 Brunswick, Maine is a small town up the coast from Portland. Just off Interstate 95, US Route #1 runs right through the town. Brunswick is a typical small college town, hosting Bowdoin College.

Two of Thomas Edison's key assistants at Menlo Park, Francis Upton and Charles Clarke, were college classmates at Bowdoin College in Brunswick. Both Edison's Menlo Park lab and Bowdoin College are a short walk from US#1 (but they are more than 350 miles apart on that highway).

Bowdoin has a long and distinguished history. The following is an excerpt from the Bowdoin College web site:

The history of the school
June 24, 1794
Massachusetts Governor Samuel Adams signs an act to establish Bowdoin College.

1799-1802
Massachusetts Hall, Bowdoin's first building, is constructed.

1820
Maine ceases to be a part of the Commonwealth of Massachusetts and becomes its own state. The Medical School of Maine is established as part of Bowdoin. The school awards more than 2000 degrees during its existence from 1820 to 1921.


1825
Nathaniel Hawthorne graduates from Bowdoin. His first novel, written in 1828 and titled Fanshawe, was set at a college similar to Bowdoin. Hawthorne went on to write The Scarlet Letter, The House of Seven Gables and the campaign biography for his friend Franklin Pierce, Bowdoin class of 1824 and 14th President of the U.S.

1827
"We wish to plead our own case. Too long have others spoken for us. Too long has the public been deceived by misrepresentations in things which concern us deeply." These words, appearing in the March 16, 1827 inaugural issue of Freedom's Journal, were written by John Brown Russwurm, Bowdoin's first black graduate, in 1826. The third black to graduate from an American college, he went on to become the co-founder and co-editor of the country's first black newspaper, Freedom's Journal.

1852
Harriet Beecher Stowe's Uncle Tom's Cabin is published. Stowe's husband, Calvin, class of 1824, was Collins Professor of Natural and Revealed Religion at the College, and Stowe wrote much of her book in his study in Appleton Hall.

1863
Colonel Joshua Lawrence Chamberlain, class of 1852, takes command of the 20th Maine Infantry. He defends Little Round Top at the Battle of Gettysburg, later receiving the Congressional Medal of Honor for his actions.

1867
Oliver Otis Howard, Bowdoin Class of 1850 and also a Civil War hero, founds Howard University and serves as the school's first president from 1869 to 1874. Bowdoin's residence hall, Howard Hall, is named for him.

1875
"O ye familiar scenes, -- ye grove of pines, That once were mine and are no longer mine..." -- "Morituri Salutamus" Henry Wadsworth Longfellow celebrates the College and the fiftieth reunion of his famous class of 1825 with the reading of his poem "Morituri Salutamus". Longfellow taught modern languages at Bowdoin from 1829 to 1835 and was arguably the most popular literary figure in nineteenth century America.




1909
Robert E. Peary, class of 1877, reaches the North Pole. Peary was accompanied by his black assistant Matthew Henson and four Inuit. Donald B. MacMillan of the class of 1898 led one of Peary's support teams. Peary returned to the United States a national hero and was promoted to the rank of rear admiral. MacMillan went on to lead more than two dozen expeditions to the Arctic, often enlisting Bowdoin College students as members of his scientific crew.

1948
Alfred C. Kinsey, Bowdoin class of 1916, writes Sexual Behavior in the Human Male. (He wrote Sexual Behavior in the Human Female in 1953). Kinsey's research is still considered the largest and most significant study of human sexuality.

1971
Women matriculate at Bowdoin as part of the first fully co-ed class.

1984
Joan Benoit Samuelson '79 wins the gold medal in the first women's Olympic Marathon, held that year in Los Angeles.


Civil War Connections
For an institution so far away from the battle fields of the Civil War, Bowdoin's connection to that War is remarkable. It is said that the Civil War began and ended in Brunswick, Maine. And, in a manner of speaking, it did: Harriet Beecher Stowe, whose book Uncle Tom's Cabin raised national awareness of the horrors of slavery and incited support of abolition, wrote most of her book in a study in Bowdoin's Appleton Hall.
And Joshua Lawrence Chamberlain, who left a post as Professor of Rhetoric at Bowdoin to lead the 20th Maine and win the day in Gettysburg, was elected to receive the formal surrender of Lee's army at Appomattox. Chamberlain returned to Maine and served four terms as Governor before serving as Bowdoin's president from 1871 to 1883.The Chamberlain Museum, which was his home, is directly across Maine Street from campus; Chamberlain is buried in a cemetery adjacent to campus; and Chamberlain's papers and memorabilia - including the Congressional Medal of Honor shown here - are housed in Bowdoin's Special Collections.
By the time Chamberlain joined the Union army, Oliver Otis Howard, Bowdoin Class of 1850, had already lost an arm in the fighting. He went on to become the head of the Freedmen's Bureau and to found Howard University, of which he was the first president. After the war, the College contended that a larger percentage of Bowdoin's alumni fought in the Civil War than those of any other college in the North. And many worked behind the scenes as well, most notably Governor Andrews of Massachusetts, Bowdoin Class of 1837, who was responsible for forming the famous 54th Massachusetts regiment of black soldiers.