Home > Metuchen Edison History > History Features Index > 1936 Cards in Metuchen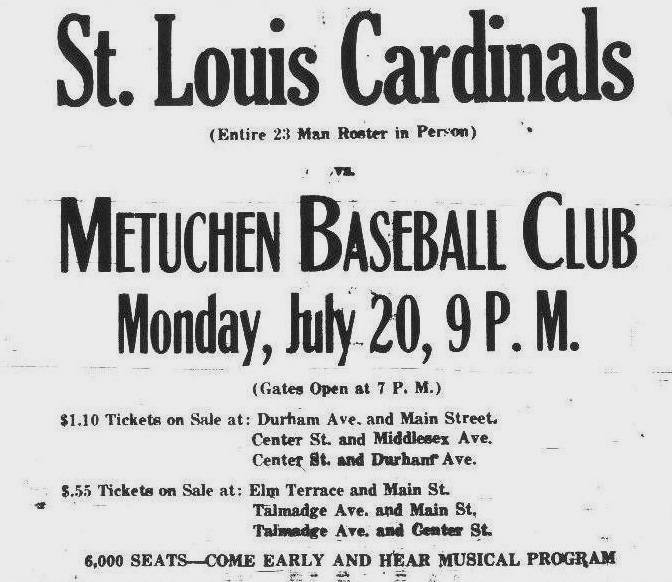 Metuchen Recorder, 7/23/36
St. Louis Cardinals Defeated By Metuchen B.B.C. Before Crowd of 4,000 at High School Field
Most Colorful Team in Modern Big League Baseball Fail to Solve Pitching by Bert Humphries; Eight Retired Via Strikeout Route
Most Important Event in Borough History, Attended by Record Crowd of 4,000 Persons
Reaching heights to which many pitchers aspire but few attain, 'Bud' Humphries pitched the game of his career on Monday evening at the high school field when 'Blackie' Regan's Metuchen baseball club defeated the St. Louis Cardinals, former world's champions, by the score of 10-7 in a sizzling contest under the floodlights.
Humphries, the product of Metuchen high school, who received his specialized training in the camps of several "Yankee" farms including Newark, Akron, Binghamton, and Norfolk was most effective in silencing the bats of such noted sluggers as Joe "Ducky-Wucky" Medwick, "Ripper" Collins, and "Frankie" Frisch, and experienced only a few short moments when he was not in complete control of the situation. Ogrowdowski, Cardinal catcher, was the only man to solve "Bud's" slants to any great extent, connecting for three doubles in three trips to the plate. Several of the visiting players paid tribute to the local lad's work on the mound by stating their convictions that he really had something on the ball.
Metuchen's heavy hitters, representing the pick of New Jersey's semi-professional stars, enjoyed a veritable field day at the expense of Bill Walker and Flint Rhem, veteran St. Louis flingers. Walker, who served them up the first five innings got off easy compared to the volley of base hits that greeted Rhem in the sixth inning when Metuchenites scored five runs, sewing up the game. Hall, left fielder, led the parade with four hits in five trips to the platter, closely followed by Metuchen's favorite, Ernie Sabo and Calleran, who had three bingles apiece. Two of Sabo's blows were good for two bases and were produced at timely intervals when runs meant something. A total of fourteen two base hits were slammed out by both teams during the nine innings played.
The Cardinal defeat, which has been laid to many things, is best analyzed as a shortage of pitching strength. It is no secret that Manager Frankie Frisch is at wits end for pitchers at the present time and the large number of doubleheaders in recent days has taken its toll of the strength of the Cardinal staff. Add to this the recent injuries of the Dean Brothers, the frequency with which other hurlers have been going to the showers and the fact that the game was played under the lights, and you have a suitable answer for Metuchen's victory. The local team was on its toes from start to finish and played inspired ball, showing spirit that wouldn't be denied.
The 4,000 odd spectators, who jammed the high school field, paid tribute to the largest athletic venture ever attempted in Metuchen. Manager Ed "Blackie" Regan should receive a great deal of credit for his achievement in successfully promoting this event, which was as much a boost for this borough as it was for the team and players representing it.
Click here to view a picture of the team in front of the Metuchen YMCA
The Box Score: